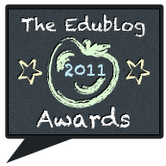 From the
Edublog Awards Blog
: "The purpose of the Edublog awards is
promote and demonstrate the educational values of these social media
.
The best aspects include that it
creates a fabulous resource
for educators to use for ideas on how social media is used in different contexts, with a range of different learners while creating an invaluable resource of the best-of-the-best on the web!
Write a post with your nominations for the different categories on your own blog (or a website – anywhere public)
Send a link to your nomination post via this form."
Nominations can be made up to
Friday 2 December,
voting will commence on 3 December until Tuesday 13 December.
Here are my nominations of the blogs and tweeters that I find to be most useful for my own learning (purely selfish reasons!)

Best individual blog:
Phil Bradley's weblog
Phile keeps me up to date when I don't get a chance to do it myself!
Best individual tweeter:
russeltarr
russeltarr
- this guy must spend all day trawling the internet to share amazing resurces of all kinds!
Best new blog:
Teaching the world with team future
Julz is a first year teacher (after a career before) this is her blog of reflection her journey of teaching.
Best ed tech / resource sharing blog
:
Free technology for teachers
- wow! I dip into this blog often!
Best librarian / library blog:
Too hard! My RSS Reader is full of excellent blogs to follow, all with fabulous ideas...
Librarians are go
by Stacey Taylor this year has got me thinking in all directions, so for this Stacey I thank you by nominating you!
Best School Administrator blog:
Darcy Moore's Blog
- I like how Darcy writes, and I even met him in person this year!
Best free web tool
: this has got to be
join.me
- WOW wow wow! I have had conversations in the same city and even across the world using join me to teach / show someone something.
That is all I can muster up for tonight - Good luck to all my nominations and if you have never seen any of these blogs before please do take a peak, you won't be sorry!
Do you have favourites? Share the love ...